Now, I've had one experience buying from them in the past and it was an absolutely amazing experience. They posted a sales post on the comm_sales and I bought a Meta set from them. They even upgraded my shipping for free since they were told the shipping I'd paid for wouldn't get to me in the time I'd asked for (I'd wanted to wear the skirt for Christmas). They answered all of my questions promptly and politely and didn't mind that I asked way too many questions.
This has been enough to convince me to buy from them again in the future.
Their site is nice and streamlined; everything is ordered by type of item. And you can even narrow it down further. Dresses can be separated into OPs, JSKs, and salopettes and bottoms can be broken down into skirts or pants, etcetc for all the sections. The site is easy to navigate, they give all the information that they have available for each item, and it's all easy to find. For example, on their Milky Berry OP item, they list the Hello Lace measurements and go so far as to mention that the white colorway is the one known for bleeding when it gets wet.
You can find all sorts of items on the site, but I'd like to showcase some items I found in their dresses category that I would call my "Top 5 Wishlist" from Lolita Desu!
http://www.lolitadesu.com/ballerina-dress-in-sax-from-shirley-temple/
Here's a dress from Shirley Temple! I don't see these pop up very often and I'm really loving this dress. Especially that ballerina motif. I love all of the detailed photos posted of this dress and the measurements. The information is very clear and detailed, once again, something I really appreciate when buying second-hand.
http://www.lolitadesu.com/milky-planet-salopette-re-release-in-pink-from-angelic-pretty/
They have a brand new Milky Planet salopette from Angelic Pretty! It's in pink and just out of packaging, which is pretty cool if you weren't able to get your hands on the original release or rerelease. The price isn't bad at all, especially in comparison to the inflated prices Milky Planet (both versions) tend to pop up for.
http://www.lolitadesu.com/milky-planet-jumperskirt-re-release-in-lavender-from-angelic-pretty/
They also have the Milky Planet rerelease in lavender from Angelic Pretty. Pretty much the same as above, just the JSK now and a different color.
http://www.lolitadesu.com/milky-berry-op-in-white-from-angelic-pretty/
Again, here's that Milky Berry OP I mentioned. I like how they make sure to take photos, clearly, of any defects and label the photos accordingly.
http://www.lolitadesu.com/cross-neck-tiered-jumperskirt-long-in-wine-from-innocent-world/
And for you classic Lolitas out there, here's a lovely Innocent World dress. Again, a reasonably priced JSK with a concise list of defects with photos to show. I also like that it's mentioned the dress is at the cleaner's. Not only does this give me peace of mind that I'll receive a clean dress from them, it also would explain any kind of shipping delay before you even have to email them asking where the dress is.
That's pretty much how I feel about LolitaDesu in a nutshell! I would definitely recommend them!
Hi, everyone. I'd like to post a bit about a second-hand lolita shop called Lolita Desu. Since they're holding a 'Treasure Hunt' contest, I figured I would participate!


I didn't write here, or anywhere, about my first meet up ever...in JANUARY! I really want to start talking about things like that ; meet ups, comms, fashion... Things that are relevant to what I wanted this journal to be about. Really, I just want to keep track of my own progress. I know the chances of this journal really being read are kind of slim, but that really doesn't bother me. I have exposure elsewhere for the things I want to be read. This is just a chronicle. I'll probably repost some of the things I write here to my tumblr, but it depends.

Let's see if I can remember the journal part of livejournal is actually a thing from now on.
I really need to start posting here more often. I end up getting so much done, lolita wise, and never really bring it up here. Or anywhere, for that matter. I've acquired a lot of stuff, I can fit a larger range of items now, I think I'm gotten better at being a lolita in general, and I have a lot to say on the whole lolita thing, as well. I think I really should start posting here again, but am not really sure how frequently or if I really should. It'd be a good way to get my thoughts out, I guess, which is better than nothing.

I've acquired quite a few of my dream items:
Jewelry Jelly switching JSK set in lavender
Cinderella Jewelry skirt in pink
Bunny Milk and Snow Strawberry skirt in ivory
Princess shirring JSK in pink

I'm still looking for a few more items, of course. What lolita isn't always looking for more stuff? Haha.
I haven't posted here in a while. And my wardrobe kind of exploded since my last post. I mostly post my Tumblr now, but I will definitely post some photos of my new stuff here once I get better photos of them.


I actually acquired Jewelry Jelly. The switching JSK. In lavender. With a matching headbow! (and even the shooting star OTKs that AP had a while back) I also managed to get my hands on the frilled JSK She is Sleeping... print from Baby the Stars Shine Bright. And today I just bought the Jewelry Jelly socks in lavender.

I'll be posting photos later.
Since my last post, a lot has kind of happened in my little world of lolita.
Current Mood:

bouncy
Here's the parasol bag (I made the blanket I'm using as a backdrop XD). The parasol is collapsible and hiding inside it.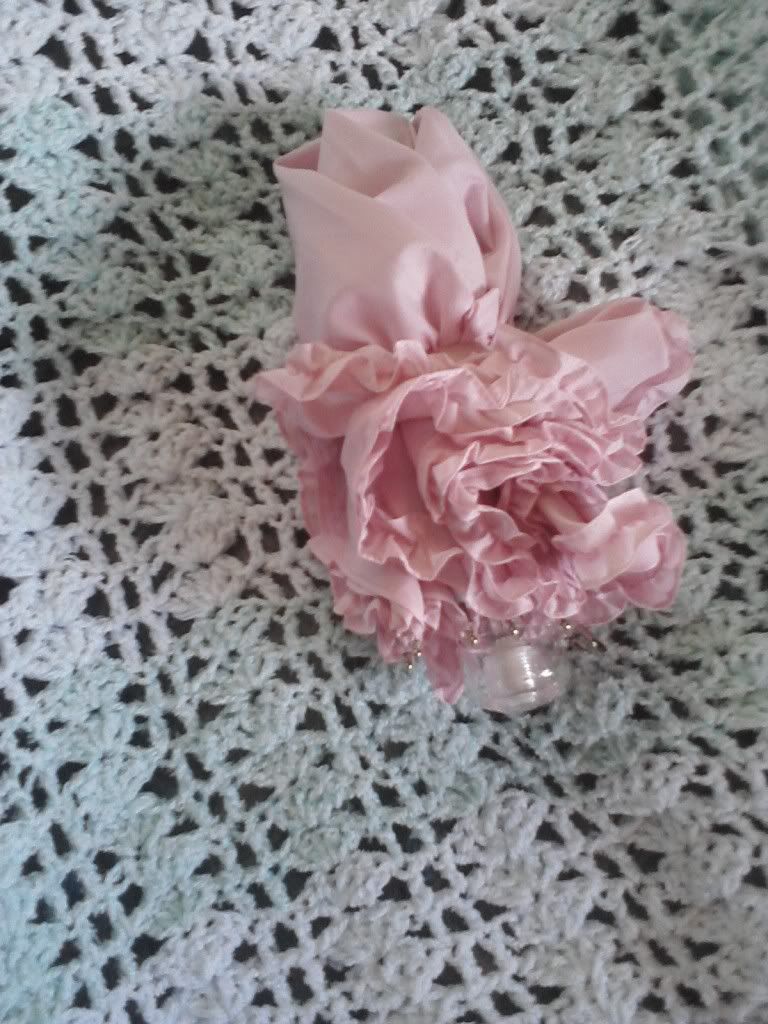 Parasol all closed up.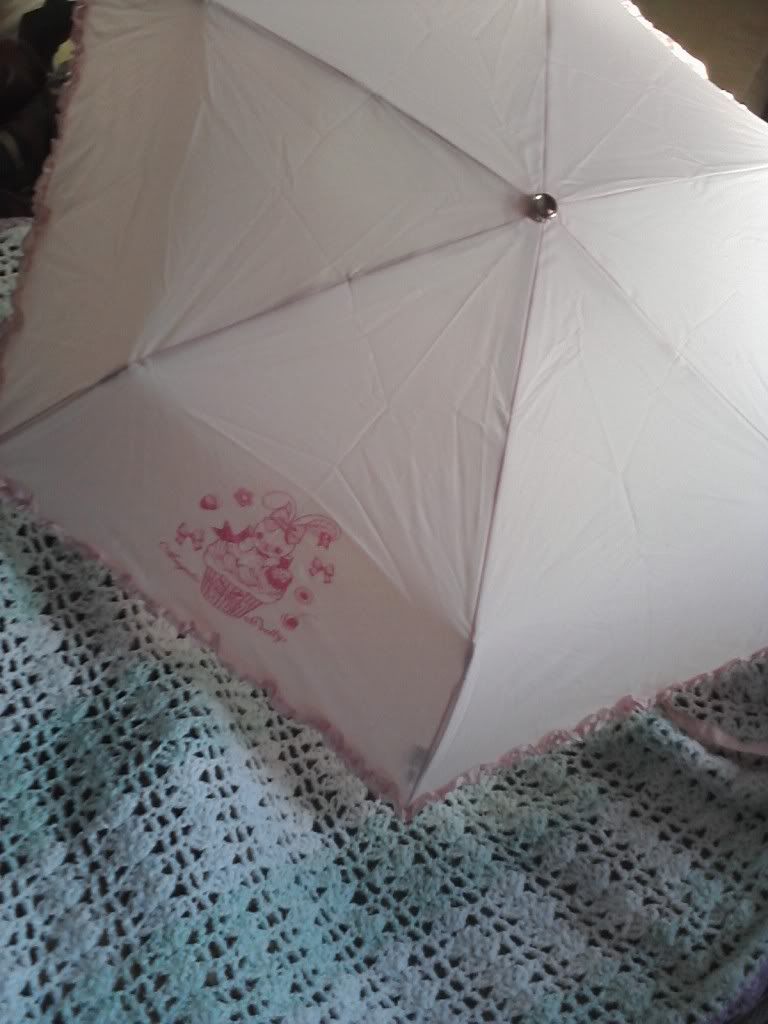 And here it is all open! You can see it's got a print that matches the bag on it!
Very cute!
I just received my first parasol that I've bought from the the sales comm today! It was waiting for me on the stairs when I got home from work. It's much, much lovelier than I expected it to be and is much nicer in person. Truly, it's the sweetest shade of baby candy pink. Adorable!
Current Mood:

bouncy
Jewelry Jelly is mine! I won an auction for the LAVENDER switching JSK with the matching headbow! I couldn't be happier right now. I also got it for preeeetty damn cheaply. I'll probably be around $230 after I get it shipped out here from Japan. <3 Squee.
Current Mood:

giddy
I bid on JJ! Here's hoping!


One is the pink, my least preferred color. But, it's the most reliable offer. She provided proof, etc.

The other two are the blue, my second preferred color. One can't provide proof or feedback at all, which makes me nervous. When I asked for them to provide, they just kind of...fell off the end of the internet and never got back to me. The second said she can provide proof and feedback, but that was two days ago. I'm giving her a few more days to get back to me (since I know we're not all attached to our computers, etc), but if she doesn't get back to me soon, I'm going for the pink. I don't know if I'm going to try and haggle her down from the $265 shipped price. I might try and get her to make it $250 or something. That'd be a lot more doable for me.

Either way, I'm getting this goddamn dress. One day, I'll own all the Jewelry Jelly stuff I want.

When the dress comes in (since I'm GOING to get it), I'll take pictures of it. If it fits, I might even be wearing it in the photos! We'll see.
I don't even know. Well. I've gotten three offers for the Jewelry Jelly JSK.
Current Location:

USA, MA

Current Mood:

anxious


I put out a WTB for the JSKs, the skirts, the parka, the cutsew, the socks, and the hair bow. Hopefully I can get at least one of those, hopefully I get the JSK I want, the socks, and the hair bow definitely. I would LOVE the cutsew or parka, but all in due time.
I finally posted a WTB for Jewelry Jelly. It's my ultimate goal dress. =O I hope someone gets back to me. Once the fabric Mik bought gets in and he makes me the bag and accessories, I'll be showing those off as well. He found some Jewelry Jelly fabric (in lavender) and bought it. Super early birthday gift for meee.